Digital Transformation Indonesia Conference & Expo (DTI-CX)
Digital Transformation Indonesia Conference and Expo (DTI-CX) will bring together corporates, SOEs and governments who are looking for tech partners to learn and execute their digital transformation plan in the future to transform people, business, and data.
DTI-CX will feature a 2-day conference that will have thought leaders from banking & finance, telecommunications, manufacturing, healthcare, infrastructure, logistics & transportation, utilities, FMCG, and education sharing their challenges and opportunities in their digital transformation journey.
The expo that will showcase the most innovative solutions in enterprise solutions, data, cloud, Ai, communications, system integration, training, and many more.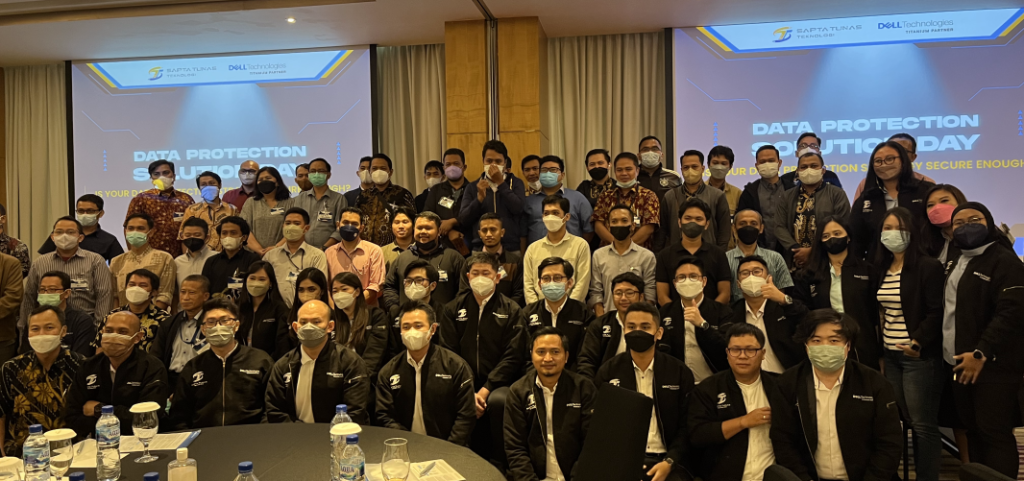 DATA PROTECTION SOLUTION DAY EVENT : IS YOUR DATA PROTECTION STRATEGY SECURE ENOUGH?
Jakarta – July 14, 2022 at Padang Room (The Westin Jakarta) Sapta Tunas Teknologi collaborated with Dell Technologies had held an event with the crucial topic in this digital era, it was "Data Protection Day: Is Your Data Protection Strategy Secure Enough?"
In this one-day amazing event our valued customer could gain much information about the newest cyber crime, cyber attack and cyber terrorism information. We discussed much about that warning in this digital era. As an opening from our Data Center Sales Lead Andre Sureja talked about how important data for business and the danger of some cyberattack cases.
In first session from our speaker Martin Ruslan thoroughly explored about Data Strategy: Last Line of Defense. In this session we discussed about the common cyber attacks and the newest type of cyber attack. Not only that, but also discussed about what shields are needed to prevent it. Martin Ruslan shared about our Cyber Recovery Solution that can help customer prepare for the worst situation in their business.
For the second session from our speaker Shanty Hosea thoroughly explored about Strengthening The Frontlines For Unstructured Data Security. We discussed about the difference of structured and unstructured cyber security solution, and in this occasion we deeply talked about unstructured data drive growth and innovation with the cyber security solution that suite for it.
Furthermore, we also showed live demo unit for our valued customers. They can directly see the implementation of the data protection solutions. By held this event, we hope all topic delivered well and our customer could be more wary of cyber crime, cyber attack and cyber terrorism. Sapta Tunas Teknologi as Titanium Partner of Dell technologies will always welcome you to get best IT solution to support an accompany our customer to prepare their data protection strategy in this digital era.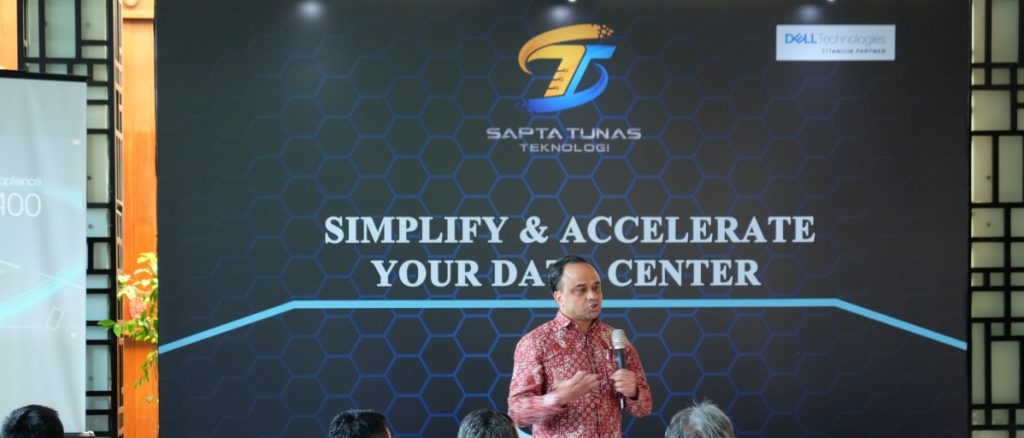 SIMPLIFY & ACCELERATE YOUR DATA CENTER
Jakarta, October 30th, 2019 in Satoo Garden – Shangri La Hotel, PT Sapta Tunas Teknologi had held an event by Theme "Simplify & Accelerate Your Data Center".
Attended by IT Department from our client company invited, Sapta Tunas passionate to share much information about data center that impact for client's business.
Moreover, the special guest for us was attended by Mr. Richard Jeremiah as Managing Director of Dell EMC Indonesia. He welcomed our client  to have any information about data center todays & have to have a data protection also for running the business well.
Realizing data center management is important to share with client, Sapta Tunas Teknologi provides the interesting topic for sharing them the best solution. It has 4 topic indeed, such as How Dell EMC MX & VMWare vSAN Tuning for Best Performance, Simplify Deployment & Management, Simplify WAN Management & Reduce Cost using SD-WAN by Velo Cloud and DELL EMC Data Protection Solutions – A Key Ingredient in Digital Transformation.
Any update information about what Dell Technologies has for client, We share and discuss. In MX Solution has a unified, high-performance data center infrastructure, provides the agility, resiliency and efficiency to optimize a wide variety of traditional and new, emerging data center workloads and applications. Its responsive design and delivers the innovation and longevity customers of all sizes need for their IT and digital business transformations.
In business transformation, client has to run fast their business and important to make all the things in the management tools effectively. And Sapta Tunas Teknologi & Dell technologies can provide It by our solutions. How to protect their data also is the main things to concern in this transformation thats why data protection be one of the topics for this event.
A live demo unit MX also was the one of our part to show client that curious about MX and attract them to know more details. Our professional enterprise solution helped them to explain the unit function. We looked that client was enthusiastic to visit that demo unit spot. We provide not only the topic but also showcase in order them know the unit.
By held this event, We hope all the topics delivered well and client get more information that They need. Sapta Tunas Teknologi as Partner of Dell Technologies will always provide the best IT Solution to support and accompany client to always be ready in every level of competitive business.
Sapta Tunas hope by held this event, Client get more meaning of IT Transformation and what behind component that support to make It real to company overcome the challenge with Sapta Tunas Support and Services.