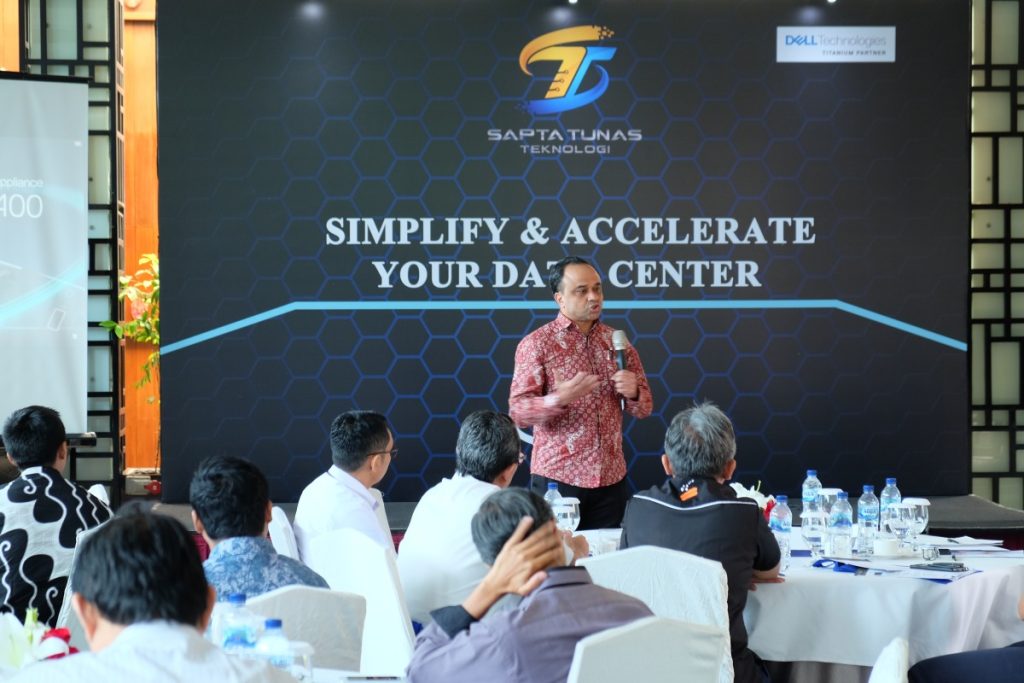 Jakarta, October 30th, 2019 in Satoo Garden – Shangri La Hotel, PT Sapta Tunas Teknologi held an event with the Theme "Simplify & Accelerate Your Data Center.
Attended by the IT Department from our client company, Sapta Tunas is passionate about sharing much information about data centers that impact for client's business.
Moreover, the special guest for us was attended by Mr. Richard Jeremiah Managing Director of Dell EMC Indonesia. He welcomed our client to have any information about data centers today & have to have data protection for running the business well.
Realizing data center management is important to share with clients, Sapta Tunas Teknologi provides an interesting topic for sharing with them the best solution. It has 4 topics, such as How Dell EMC MX & VMWare vSAN Tuning for Best Performance, Simplify Deployment & Management, Simplify WAN Management & Reduce Cost using SD-WAN by Velo Cloud and DELL EMC Data Protection Solutions – A Key Ingredient in Digital Transformation.
Any updated information about what Dell Technologies has for clients, We share and discuss. MX Solution has a unified, high-performance data center infrastructure, that provides the agility, resiliency, and efficiency to optimize a wide variety of traditional and new, emerging data center workloads and applications. Its responsive design delivers the innovation and longevity customers of all sizes need for their IT and digital business transformations.
In business transformation, the client has to run their business, and important to make all the things in the management tools effective. Sapta Tunas Teknologi & Dell technologies can provide It through our solutions. How to protect their data also is the main thing to be concerned about in this transformation that's why data protection is one of the topics for this event.
A live demo unit MX also was one of our parts to show clients that curious about MX and attract them to know more details. Our professional enterprise solution helped them to explain the unit function. We saw that the client was enthusiastic about visiting that demo unit spot. We provide not only the topic but also a showcase for them to know the unit.
By holding this event, We hope all the topics are delivered well and clients get more information that They need. Sapta Tunas Teknologi as a Partner of Dell Technologies will always provide the best IT Solution to support and accompany clients to always be ready for every level of competitive business.
Sapta Tunas hope by holding this event, the Client get more meaning of IT Transformation and what component that support it to make It real for the company to overcome the challenge with Sapta Tunas Support and Services.