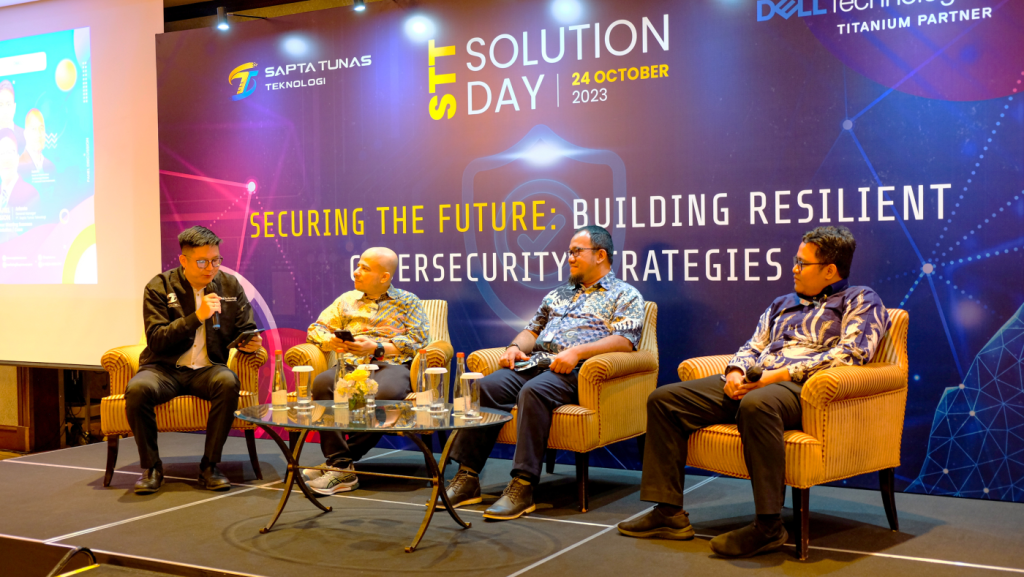 Jakarta, Indonesia – October 24, 2023
Sapta Tunas Teknologi, in collaboration with Dell Technologies, recently hosted a remarkable event, STT Solution Day 2023, at the prestigious Shangri-La Hotel in Jakarta, Indonesia. The event's core focus was to simplify the complexities of cybersecurity and workloads, with the theme "Securing the Future: Building Resilient Cybersecurity Strategies."
In our increasingly digital world, the safeguarding of data has never been more critical. As technology progresses, so do the threats. STT Solution Day 2023 aimed to address these challenges and present solutions to ensure the safety of valuable data.
The day began with an inspiring opening speech by Mr. Andrea Suredja, Data Center Sales at Sapta Tunas Teknologi, and Mr. Erwin Yusran, Head of Data Center Sales at Dell Indonesia. They set the stage for the day's discussions, emphasizing the gravity of cybersecurity.
The event featured insightful Innovation Keynotes. Mr. Trigantoro Bramaningtyas, Solution Architect Manager at Sapta Tunas Teknologi, explored into the benefits of AI and the distinction between AI and Gen AI. He also elaborated on enhancing customer experiences with AI solutions from Dell Technologies. Mr. Faisal Yahya, a Cybersecurity Strategist, explored the ever-evolving landscape of cyber threats and strategies to navigate the future with resilience.
A panel discussion, moderated by Mr. Arianto, General Manager at Sapta Tunas Teknologi, included Mr. Ahmad Faruq from the Ministry of Manpower of the Republic of Indonesia and Mr. Kalvin from Asuransi ASEI Indonesia. They shared their experiences of how Sapta Tunas Teknologi had helped address their organizational challenges. Mr. Faisal Yahya provided valuable insights into cybersecurity strategies.
The event offered two separate breakout sessions: Cybersecurity Session and Workload Session. In the Cybersecurity Session at the Sumatera-Java Room, we heard from Mr. Singgih Saputra of Fortinet Indonesia on "The Evolution of Access to Applications with Fortinet ZTNA." Mr. Diego Krist from Splunk Indonesia discussed "Unified Security Operations with Splunk." Mr. Abdul Aziz from Dell Indonesia shared insights on "Transforming Security with Confidence," and Mr. Andi Subali from Sapta Tunas Teknologi highlighted "Data Recovery as Your Last Line of Defense against Cyber Attacks."
In the Sulawesi Room, the Workload Session featured Mr. Andri Ahmad from Dell Indonesia, who talked about "Multi-Cloud Using DELL APEX Cloud Platform." Mr. Felix Kusuma from Sapta Tunas Teknologi provided a comprehensive understanding of AI architecture and its applications. Mr. David Winarso from Dell Indonesia explored "Software for Open Networking in the Cloud," while Mr. Muhammad Immadudin from PT. VMware Indonesia delved into "Network Visibility and Security for Distributed Applications." Lastly, Mr. Rudy Tirta Saputra from Sapta Tunas Teknologi discussed "The Future of Asset Management."
STT Solution Day 2023 was an enriching experience, bringing together experts to tackle the pressing challenges of cybersecurity and workloads in our ever-evolving digital landscape. It emphasized the importance of staying prepared and resilient in the face of the growing cybersecurity threats that the future holds.